HOLZ-HER SPRINT SERIES:
Programmable Logic Control for machining operations
Automatic magazine for coiled and solid edge materials.
Patented HOLZ-HER cartridge glue systems.
Multi-functional top/bottom flush and end trimming units
(flush, radius & chamfered edges)
Optional HOLZ-HER exclusive PCS (Pneumatic Changeover System)
Edge thickness from 0.4-3 mm
Panel thickness from min/max 6-45 mm to 0.3 - 13mm
Feed speeds from 8 - 11 m/min
Premilling available
HOLZ-HER LUMINA SERIES: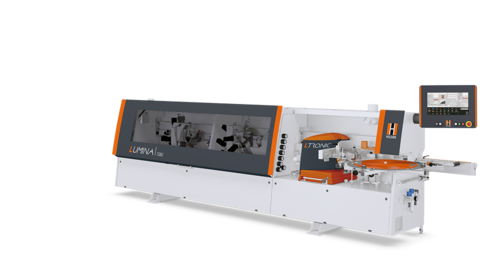 Edgebander LUMINA 1380 & 1375 for artisans at an industrial level.
Invisible Joint with Laser Edging
iTronic for intelligent automation
Waterproof Invisible Joint
Intuitive Operation with Touch Screen
Two systems for perfectly invisible joints. The GluJet glue application system for standard use of PUR glue and the LTRONIC, the new laser edging unit from HOLZ-HER, are unbeatable in terms of speed and cost efficiency. Up to 18 NC servo-axes provide maximum automation and productivity. From high tech jointing cutting to complete finishing, this machine offers comprehensive equipment for perfect edgebanding. The all-rounder in this class.